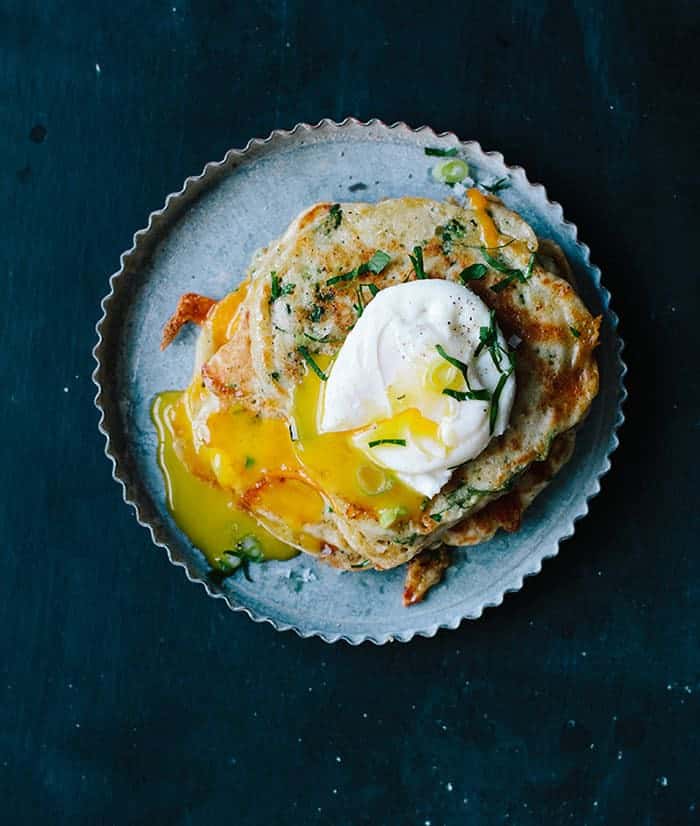 These savory vegetable pancakes cook up with a nice crispy edge on the outside while the inside is packed with crunchy bits of cauliflower and soft cheese, making them a perfect foil for a poached egg.
1 cup flour
1/2 teaspoon baking soda
3/4 teaspoon salt
1/4 teaspoon black pepper
1 pinch cayenne pepper
1 cup cauliflower, finely chopped
1 cup broccoli, finely chopped
3 tablespoons parsley, chopped
1/4 cup green onions, sliced
3/4 cup cheddar cheese, shredded
1 egg
1 cup milk
4 eggs poached
2 tablespoons olive oil
Cook time: 30 minutes
Recipe yield: 4 servings
1. Preheat oven to 200°F. In a large mixing bowl, whisk the flour, baking soda, salt, pepper and cayenne.
2. Reserve a small amount of parsley and green onion for garnish.  In a medium mixing bowl, combine the cauliflower, broccoli, green onions, parsley, cheese egg and milk and combine well.
3. Pour the vegetable mixture into the dry ingredients, and mix until just combined.
4. Heat a large nonstick skillet over medium-high heat. Add enough olive or canola oil to coat. When skillet is hot, scoop ¼ cup of the batter for each pancake. Flip when the first side is golden brown. Total cooking time will be 4 minutes or less. Keep pancakes warm in oven until ready to serve.
5. Bring a large sauté pan filled with water to a boil. Gently place eggs into the water and roll them around for just 1 minute. (This firms up the white a bit.) Quickly remove from water, and then crack the eggs 1 at a time into the simmering water and poach until white is cooked, about 2 minutes for a runny yolk. Transfer the eggs to a plate with bit of water on it to keep them from sticking while the other eggs are poaching.
6. Assemble the plates, with two pancakes on the bottom and a poached egg on top. Finish with reserved green onions and parsley.
Try Kathleen Korb's Mushroom and Kale Soup!
Want more Edible San Francisco recipes? Then like us on Facebook to stay connected to our daily updates.
Savory Vegetable Pancakes with Poached Eggs was published in the Winter 2015 issue of Edible San Francisco Magazine. © 2015 Edible San Francisco. Photo © 2015 Kathleen Korb.