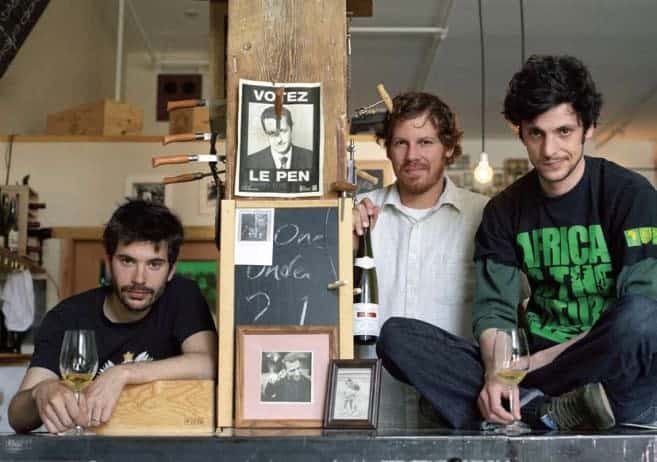 At Terroir Natural Wine Merchant, natural wines are the (only) order of the day!
You know a place has a touch of sass when, after the first sip of a wine you've probably never heard of, you glance up to see a campaign poster featuring a photo of French President Nicolas Sarkozy with the words "Votez Le Pen" pinned to the wall with a knife. It is this very sense of screw-the-establishment humor, combined with a strong sense of purpose, that makes Terroir one of San Francisco's most intriguing, even fun places to buy and taste wine. And it's meant as a compliment to say that Terroir is one of those spots that will either immediately resonate with you, or not at all. Like I said, it's got attitude. Not in a snobbish way, just a passionate belief that the world's finest wines are not only free of pesticides and added sulfur, but are made with as little human intervention as possible.
Located on Folsom Street, just east of City Beer Store and the BrainWash Café, Terroir opened in October 2007 as a combination retail store and wine bar. Suggesting New York or Paris more than San Francisco, the sparse yet inviting interior is lined with exposed brick walls and forested with huge vertical support beams. Periphery-hugging shelves and freestanding racks display a selection of more than 450 wines from around the world, and a small tasting bar is situated along the middle left, with the day's selections scrawled on a large and frequently erased chalkboard. Stairs on the right ascend to a loft with a couch, tables, and a few cushy chairs.
The brainchild of two rail-thin and perpetually scruffy Frenchmen, Guilhaume Gerard and Luc Ertoran, and their American partner, Dagan Minestro, Terroir was inspired by the wine bars of Paris, where a big zero-sulfur movement has taken hold. But as important as the idea of natural wines is to Terroir's raison d'être, the wine list is driven first and foremost by quality and taste. "Look, we believe completely in these practices, and absolutely in using no sulfur, but that alone doesn't make a good wine. A lot of zero-sulfur wines are crap," says Ertoran.
Beyond organic
But what exactly does zero-sulfur mean? Sulfur dioxide is a natural byproduct of the fermentation process, meaning no wine is entirely sulfite free. And to prevent spoilage, winemakers for the past few hundred years have added small amounts of sulfur dioxide to their wines. The USDA allows up to 350 parts per million, though that standard drops to zero for wines that are certified organic, and to 100 ppm for wines that are "made with organic grapes." Terroir prefers the word "natural" to the more common "organic" and "biodynamic." Explains Ertoran, "You can't suddenly switch to organic farming and expect the same result as guys who have been doing it for six generations. To make exceptional wine, you must respect your land as well as your customers. But using organic grapes is not enough. What about the additions of sulfur and enzymes? If you add three chemicals to a wine it becomes a cocktail. And we don't have a license to sell cocktails." When asked if that means all of Terroir's wines are free of added sulfites, Gerard responds, "We certainly have the largest list of wines in the States with no added sulfur, but not all our wines are sulfur free. When they are not, we allow for only very small amounts"–10 to 35 milligrams per liter.
Striving for poetry
"We try to give exposure to wines people have never had before," says Gerard. "Everybody's selling a Napa Cab or Sonoma Chardonnay. We're trying to do something different." To that end, Terroir admittedly offers "some weird stuff," such as an oxidized but delicious Arbois from France's Jura region. "We take risks because we're wine geeks, not businessmen," he jokes. In another perhaps risk-taking move, Terroir, unlike the majority of wine outlets, shuns the numbers game, and never uses scorecards from publications as sales tools. "It would be like putting numbers on people," Gerard laughs. "'Oh, by the way, I met your friend today–he was an 82.' What exactly does that mean?" This kind of personal touch and outspoken honesty are what makes a visit to Terroir, or Biondivino on Green Street (see Edible San Francisco's Winter 2008 issue), Kermit Lynch in Berkeley, or any other neighborhood wine shop so much more rewarding, informative, perhaps even palate-changing than shopping online or at some large and impersonal discounter or grocery store. As Ertoran puts it, "What makes me happy is a customer who comes in saying he likes Zinfandel. We pour him a Beaujolais-Villages, and he goes crazy for the wine. Of course, he likes it: it's got zero added sulfur, no enzymes, and tastes real, not factory made. We believe 100% in every wine we sell. Some of these wines have flaws, but that's what makes them what they are. We're not striving for perfection like UC Davis is–we're striving for poetry, for a wine that has a story to tell."