What to do in San Francisco? As far as a day in the city goes, there is no perfect itinerary. The city's corridors are packed to the gills with old haunts—the kinds with Prohibition-era secrets and grit—nestled against an ever growing new crop of bright-eyed culinary experiments. Look no further than the Italian pizzerias in North Beach, uncorrupted and as old as time, or the new wave of fanatical coffee shops, sourcing directly and brewing exquisitely. All of them are worth their salt, but if you only have a day, the list below will furnish you with a good, thick slice of San Francisco that should hold you over long enough until you can make it back again.
The Mill
To start, head straight to the bakery that's making toast cool again. At The Mill (736 Divisadero St.), Josey Baker is milling his own flour and rolling out some of the best loaves in town. Sliced thick layered with hearty smears of everything from almond butter and honey to straight, pure butter with cinnamon sugar, there's hardly a better breakfast around these parts. As a joint venture with Four Barrel Coffee, the bakery also serves some of the most delicious single origin morning brew in the city. The café is gorgeous—all subway tiles and clean wooden lines, but take your order to go and walk to the best seat, just up the street.
Alamo Square
Once you've got your toast and coffee, head south to Alamo Square. Climb the small rise to the top, sit down, and enjoy your breakfast with a clear, full view of The Painted Ladies—San Francisco's iconic Victorians. If you've seen the opening credits to Full House, they might look familiar.
Omnivore Books
Before lunch, make a stop at the city's only culinary bookstore, Omnivore Books (3885 Cesar Chavez St.). The shop stocks some very old, rare cookbooks as well as the cream of the current crop. This is the stomping ground for gourmands, culinary history buffs, home cooks, chefs, and anyone looking for a wildly interesting peak into food literature, past and present.
Ferry Building Marketplace 
No culinary visit to San Francisco would be complete without a visit to the Ferry Building Marketplace (One Ferry Building). The iconic, waterfront building hosts dozens of the Bay Area's best food artisans, and a vibrant Farmers Market on Tuesdays, Thursdays, and Saturdays. Stop by Cowgirl Creamery for a cheese-based delicacy, Boulette's Larder for an impossibly fresh salad, and Humphry Slocombe if you've got room for dessert. If the afternoon begs for a pick-me-up, there's always Blue Bottle Coffee too.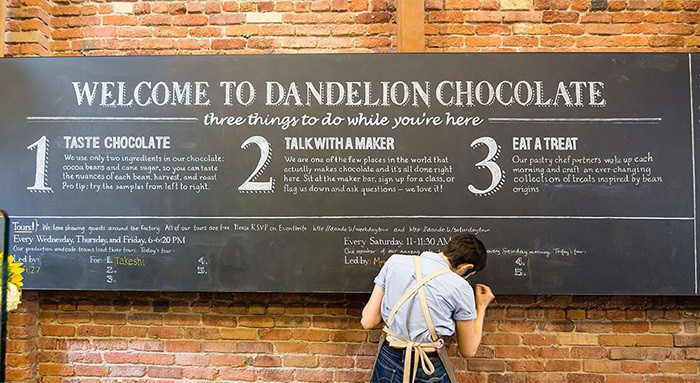 Mission District 
Next, head to one of the city's most quickly evolving, eclectic sectors: The Mission District. Walk a few blocks of Mission Street between 16th and 20th street for a quick tour of the old taquerias, and then head west to Valencia Street for a spot of excellent tea at the new wave Samovar Tea Lounge (411 Valencia St.). Save room for a bite and a sweet snack at the city's only bean-to-bar chocolate factory, Dandelion Chocolate (740 Valencia St.), and then head next door to pastry darling Craftsman and Wolves (746 Valencia St.) for the Rebel Within: a corn muffin with a soft-cooked egg inside.
Dinner at Outerlands
To cap off your day, head to the foggy outer banks of the Sunset neighborhood, straight to the quiet, seaside sanctuary that is Outerlands (4001 Judah St.). Between the reclaimed driftwood, the rustic, organic menu and the inescapable Pacific beach vibes, Outerlands is the mellow surfer of the San Francisco dining scene. Look out for smoked chicken, farro with whey and black garlic, and simple, perfectly done seafood. If you have some minutes to spare, Ocean Beach is a perfect, post-dinner's walk away.