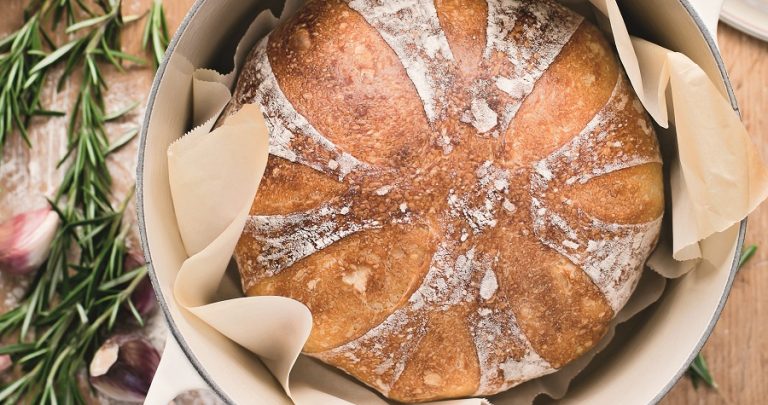 This roasted garlic and rosemary sourdough bread is one of my go-to loaves for entertaining. Soft, sweet, and caramelized to perfection, roasted garlic adds a beautiful depth of flavor, intensified with hints of fresh rosemary. This bread needs nothing more than a pool of rich, silky olive oil for dunking. Any leftovers make brilliant toasted cheese sandwiches with a crunchy green salad on the side.
If you've already made your own starter, great. If not, you'll need about a week to get one going—see How to Make a Sourdough Starter.
Print
Roasted Garlic and Rosemary Sourdough Bread
Soft, sweet, and caramelized to perfection, roasted garlic adds a beautiful depth of flavor, intensified with hints of fresh rosemary.
Author:
Prep Time:

8 hours

Cook Time:

50 minutes

Total Time:

8 hours 50 minutes

Yield:

1

loaf

1

x
Category:

Bread

Method:

Baking

Cuisine:

American
Ingredients
ROASTED GARLIC
1

 

large head of fresh garlic

1

 

tablespoon

 

Olive oil

 

for coating
DOUGH
1/4

 

cup

 

bubbly, active starter

1 1/2

 

cups

 

warm water

4

 

cups

 

bread flour

1/4

 

cup

 

whole wheat flour

1 1/2

 

teaspoon

 

fine sea salt

2

 

teaspoons

 

chopped rosemary
Instructions
Starter: A few days before baking, feed your starter until bubbly and active. Store at room temperature until ready to use.
Roast: Preheat your oven to 400°F (200°C). Lay the garlic on its side, and slice off the top third to reveal the inside cloves. Drizzle with olive oil to coat and wrap the garlic in foil. Roast on a sheet pan for 45 minutes to 1 hour. The garlic will be soft and caramelized when ready. Cool slightly before adding to the dough. To make the most of your time, you can roast the garlic while the dough is resting, or you can make it in advance and freeze until ready to use. The natural sugars might boost the dough's rise time, so keep an eye on it if you're around.
Dough: In a large bowl, whisk the starter and water together with a fork. Add the flours and salt. Combine to form a rough dough, then mix by hand to mop up all of the dry bits of flour. Cover with a damp towel and let rest for 30 minutes. Meanwhile, replenish your starter with fresh flour and water, and store according to preference. After the dough has rested, squeeze the roasted garlic cloves directly into the bowl. Add the chopped rosemary. Gently knead the dough to incorporate, tucking in the cloves as you go, about 30 seconds.
Rise: Cover the dough with a damp towel and let rise at room temperature until double in size, about 8 to 10 hours at 70°F (21°C).
Shape: Remove the dough onto a lightly floured work surface. Shape it into a round and let rest for 5 to 10 minutes. Meanwhile, line an 8-inch (20-cm) bowl or proofing basket with a towel and dust with flour. With floured hands, gently cup the dough and pull it toward you in a circular motion to tighten its shape. Place the dough into the bowl, seam side up.
Second Rise: Cover the dough and let rest until puffy but not fully risen, about 30 minutes to 1 hour. Preheat your oven to 450°F (230°C). Cut a sheet of parchment paper to fit the size of your baking pot.
Score: Place the parchment over the dough and invert the bowl to release. Dust the dough with flour and rub it in gently with your hands. Using the tip of a small paring knife or razor blade, make eight 4-inch (10-cm) long cuts around the dough. Use the parchment to transfer the dough into the baking pot.
Bake: Bake the dough on the center rack for 20 minutes, covered. Remove the lid, and continue to bake for 30 minutes. Lift the loaf out of the pot, and finish baking directly on the oven rack for the last 10 minutes. Transfer to a wire rack, and cool for 1 hour before slicing.
Store: This loaf will stay fresh for 1 to 2 days, stored at room temperature in a plastic bag.
Notes
Excerpted with permission from Artisan Sourdough Made Simple by Emilie Raffa, Page Street Publishing Co. 2017. Photo credit: Emilie Raffa
Keywords: Roasted Garlic, Rosemary, Sourdough Bread