Roasted Farmers Market Carrots with Cilantro Yogurt Sauce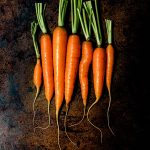 Roasting carrots whole is one of the easiest and foolproof ways to prepare them and "your body has an easier time absorbing the carotenoids in carrots if you eat them cooked rather than raw. Cooking breaks down the vegetable's cell walls, making its nutrients more available."
A simple yogurt sauce adds a savory contrast to the sweetness of the carrots.
Author:
Prep Time:

5 minutes

Cook Time:

15 minutes

Total Time:

20 minutes

Yield:

4 servings

Category:

vegetables

Method:

roast

Cuisine:

California
Ingredients
1 bunch small carrots

3 tablespoons olive oil, divided

Kosher salt

1 teaspoon coriander seeds

1 teaspoon cumin seeds

1/2 cup plain Greek yogurt

1 tablespoon fresh lemon juice

¼ cup cilantro leaves, plus blossoms and seeds if available

1 tablespoon toasted sesame seeds
Carrots: Preheat an oven to 400ºF. Cut off the carrot tops and scrub clean. On a sheet pan, toss the carrots with one tablespoon of the olive oil and sprinkle with a big pinch of kosher salt. Roast for 15 minutes or until a knife tip inserted into the carrots still meets some resistance in the middle.
Spices: While the carrots are roasting, heat one tablespoon olive oil in a small pan over medium heat. Add the coriander and cumin seeds to bloom (fry) them for 30 seconds. Why bloom spices? "There are two very good reasons for frying ground spices in oil, one chemical and the other physical. First, heating up the spices in oil releases fat-soluble flavor compounds contained within spices like cumin and coriander. Second, adding spices to cooking oil will distribute their flavor far more efficiently in the finished dish than either adding them to the liquid component or stirring them in at the end."
Yogurt: Let the spices and oil cool for a couple minutes and then combine with the yogurt, lemon juice and cilantro leaves in a mortar pestle or food processor. Mix until almost smooth, adding more olive oil and lemon juice if needed.
Serve: Plate the carrots and spoon 2-3 tablespoons of the yogurt sauce on top (serving the rest on the side). Garnish with the cilantro blossoms, seeds and the sesame seeds.
Notes
Our garden cilantro is perpetually bolting, producing a steady supply of blossoms and seeds, but you can find big bunches of cilantro blossoms at farmers markets this time of year. We usually see them at the Dirty Girl Produce stand at the CUESA market.
The Japanese Pantry stocks these organic roasted black sesame seeds, one of our favorites, which we also use to garnish the cucumber salad mentioned above.
Keywords: roasted carrots, farmers market, yogurt, cilantro