Roasted Blackberry Salad with Parsnips, Carrots and Beans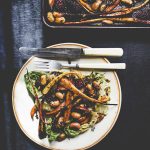 This is an ideal salad to celebrate fall in the Bay Area. Blackberries are ripening everywhere, and the shell bean season is winding down and parsnips are just beginning to pop up at farmers market stands. Little Gem lettuce leaves provide a crisp contrast to the roasted ingredients and the sweetness of the roasted blackberries complement the roasted parsnips and carrots.
Author:
Prep Time:

10 minutes

Cook Time:

60 minutes

Total Time:

1 hour 10 minutes

Yield:

4

servings

1

x
Category:

Salad

Method:

roast

Cuisine:

California
Ingredients
For the beans
1 tablespoon olive oil
½ yellow onion, sliced
1 clove garlic, sliced
½ teaspoon kosher salt
1 pound fresh shell beans such as butter beans, cannellini or cranberry beans, removed from the pods (or 1 can butter beans, drained and rinsed).
For the vinaigrette
2 tablespoons cider vinegar
1/4 teaspoon fine sea salt (or kosher salt)
2 tablespoons wholegrain mustard
2 tablespoons honey
3 tablespoons olive oil
1/4 teaspoon freshly ground black pepper
For the roasted vegetables and blackberries
6–8 small parsnips, peeled and quartered
6–8 small carrots, peeled and quartered
4–5 sprigs of fresh thyme (optional – we also used savory and fennel fronds from our garden)
2 – 1/4 pint containers fresh blackberries
2 tablespoons sunflower seeds, toasted until brown
For the salad
2 heads Little Gem lettuce, leaves separated, rinsed and dried
Preheat the oven to 400º F
For the beans
In a medium saucepan, warm the the olive oil over low heat and add the onion, garlic and salt. Cook until soft, but not brown, about 6-8 minutes. Add 4 cups water to the pan along with the beans. Bring to a simmer and cook for 20-30 minutes until the beans are soft. Note: keep at a simmer and do not boil the beans or they will fall apart. Drain the beans and set aside (you can pick out the onion and garlic if you'd like but we usually toss them in with everything).
For the vinaigrette
Stir the sea salt into the vinegar until dissolved. Add the mustard, honey, olive oil and black pepper and stir to combine.
For the vegetables and fruit
Scatter the parsnips and carrots on a sheet pan with the thyme and toss with half the vinaigrette. Roast at 400ºF for 20 minutes.
Add the beans and the blackberries to the pan and toss gently with the roasted parsnips and carrots. Roast for another 15 minutes.
For the salad
While the other ingredients are roasting, toss the lettuce leaves with the remaining dressing.
When the sheet pan ingredients are done, gently toss the lettuce with the roasted vegetables and blackberries and arrange on individual salad plates and serve.
Keywords: parsnips, carrots, blackberries, roasted vegetables, roasted fruit, little gem lettuce, fall salads