Salt: Put the steaks on a wire rack over a plate and season generously on all sides with kosher salt. Put in the refrigerator for at least 2 hours, but preferably overnight.
Temper: Take the steaks out of the fridge about an hour before cooking. Pat dry with paper towels.
Saute: Heat a skillet or cast iron pan over moderately high heat and add the oil. Place the steaks on edge, fat side down and cook for 2-3 minutes until the fat renders into the pan and the fat edge is browned.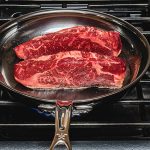 Flip: Turn the steaks onto their sides and cook for 30 seconds. Flip the steaks and cook for 30 seconds on the other side. Continue flipping the steaks every 30 seconds for 3-5 minutes and check the temperature of the meat by inserting a thermometer into the side. When the steaks reach, 110ºF add the butter to the pan. Smash the garlic clove with the side of a knife and add it to the pan.
Baste:Tilt the pan towards you slightly so the butter and fat in the pan pools in the bottom near you. With a large spoon, begin quickly basting the steaks with the fat and butter for 30 seconds. Flip the steaks and repeat. Continue basting for a couple of minutes, and then measure the temperature of the steaks again.
Temperature: The USDA recommends steaks be cooked to 145º. We cook ours to about 120ºF, which is medium rare.
Rest: Remove the steaks from the pan and put on a wire rack over a plate to rest.
Drain: Pour off most of the fat in the pan, leaving about one tablespoon behind.
Saute:Turn the heat to low and add the chopped shallot. Stir to coat with the remaining fat and cook for 2 minutes. Raise the heat to medium and add the chard. Stir constantly, so the chard dissolves all the browned bits on the bottom of the pan. When the chard is wilted but still bright green, squeeze a tablespoon of lemon juice on top, and with a spatula, scrape the chard/shallot mixture onto a serving plate.
Slice:Transfer the steaks to a cutting board and slice across the grain into 3/4 of an inch thick pieces. Neatly stack the slices leaning onto the chard on the serving plate. Spoon the juice that has collected under the steaks onto the slices.
Serve: Grind some fresh black pepper over the plate, finish with a pinch of coarse sea salt and serve.