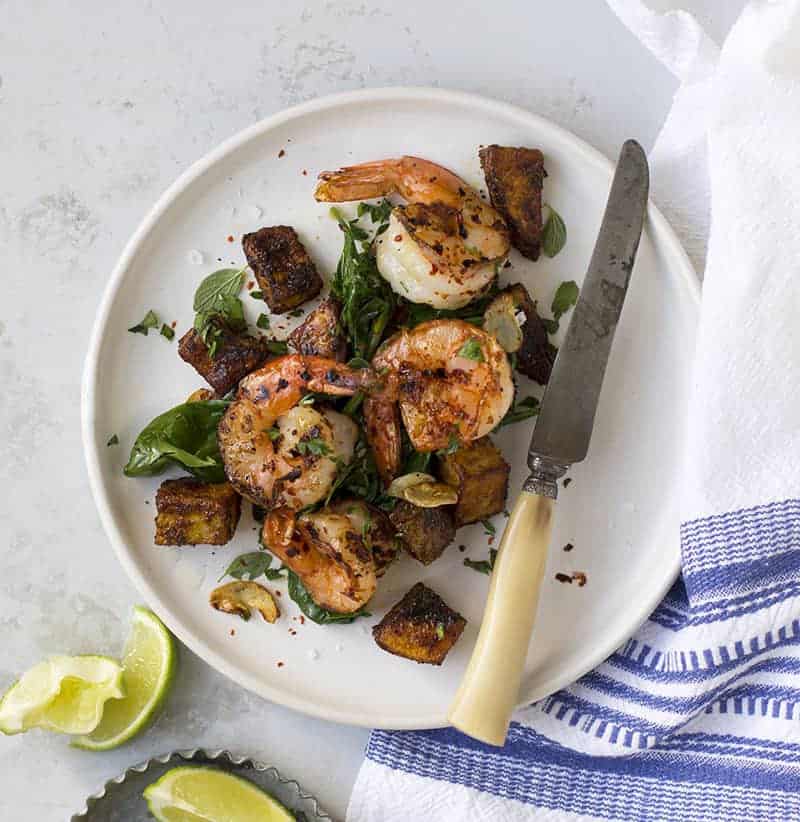 These cast iron shrimp are a spicy interpretation of a favorite dish at La Huella.
Destination Uruguay. The ability to plan the next meal while devouring the current one may not qualify as an actual skill, but it is an area in which I excel.
While some people think with their heads or hearts, my stomach seems to be responsible for the majority of my decision making. And being regaled with tales of fire, smoke and cast-iron cooking seems lure enough to warrant a journey to Uruguay.
In the land known for gauchos and asados resides Francis Mallmann's restaurant, El Garzón. The southeastern Uruguay pueblo it's in, also named Garzón, more closely resembles an old Western movie set than a culinary destination, complete with desolate dirt roads, tumbleweeds and beautiful crumbling building facades. But in contrast to the rustic surroundings, the food that emerges from the wood-burning oven and fires at El Garzón has thoughtful finesse. There is simplicity to the ingredients but an art to the elemental preparation, be it the slow-smoldering heat of an asado started before dawn, or a blistering sear on the plancha over flames. The nuances in technique can yield smashed golden-hued potatoes with a rustic crust or barely seared tuna finished with olive oil.
From the one-horse town of Garzón, it is only a short drive to the coastal village of José Ignacio. Sandy feet, salty breeze off the Atlantic, sangria-like clericó in hand, my desire for the best possible food, in the most laid-back setting possible, is realized. The beachfront restaurant, La Huella, has the elusive quality of being both sexy and casual at the same time, which may be driven by the beachwear-clad beautiful crowd as much as the open-air space. La Huella keeps its wood oven burning in perpetuum, and cooks most everything in it. Simplicity remains paramount, and the menu varies with the bounty of the sea. The grilled whole fish, needing nothing more than lemon and served simply on a wooden board, is the most ordered item on the menu.
While beef is the prevailing protein of the land, it is the seafood dishes from both El Garzón and La Huella, cooked on the plancha, that my daydreams are made of. While the stove is a far less sexy heat source, a blazing-hot cast-iron skillet can re-create the sear from the plancha. And I am back in the land of open fires and gauchos—for dinner, anyway.
Serves 4
INGREDIENTS
Print
Cast Iron Shrimp with Curry Roasted Potatoes
Author:
Prep Time:

10 minutes

Cook Time:

45 minutes

Total Time:

55 minutes

Category:

Main course

Method:

Pan Roast

Cuisine:

California
Ingredients
Potatoes:
2

pounds russet potatoes

¼ cup

olive oil

2 tablespoons

curry powder

2 teaspoons

salt

2 teaspoons

thyme leaves
Shrimp:
1

pound tail-on shrimp, peeled and deveined (see our note on purchasing shrimp below)

3 tablespoons

olive oil

½ teaspoon

chile flakes (or more)

½ teaspoon

salt

1

clove garlic, thinly sliced

4 cups

spinach

1 tablespoon

fresh oregano, chopped

2 tablespoons

fresh flat-leaf parsley, chopped
Lime for serving
Instructions
Preheat oven to 400° F. Wash and dry the potatoes. Cut into rough ¾-inch dice. Set aside.
In a large bowl, combine all the other potato ingredients and stir into a paste. Toss in the potatoes and coat well. Spread into a single layer on a large baking sheet. Bake for about 40 minutes, turning halfway through. Potatoes should be crispy and golden. Keep potatoes warm in oven while preparing the shrimp.
Heat a cast-iron skillet over high heat. In a medium bowl, toss the shrimp with olive oil, salt and chile flakes. When the skillet is smoking hot, add the shrimp and cook in a single layer, not turning until they are almost cooked through, which could be as quickly as a minute. Flip the shrimp and remove when just cooked through. Repeat with the remaining shrimp.
Add a splash of olive oil to the pan and add garlic to fry for a moment, then quickly sauté the spinach until just wilted. Season with salt and pepper.
Layer curry potatoes on top of spinach, and top with shrimp.
Finish with the chopped parsley and oregano and a generous squeeze of lime.
Notes
The farmed shrimp available at most grocery stores have a complicated history plagued by inhumane work practices (slavery) and horrendous environmental impacts. See the Monterey Bay Aquarium's Seafood Watch for information on purchasing sustainably harvested shrimp.