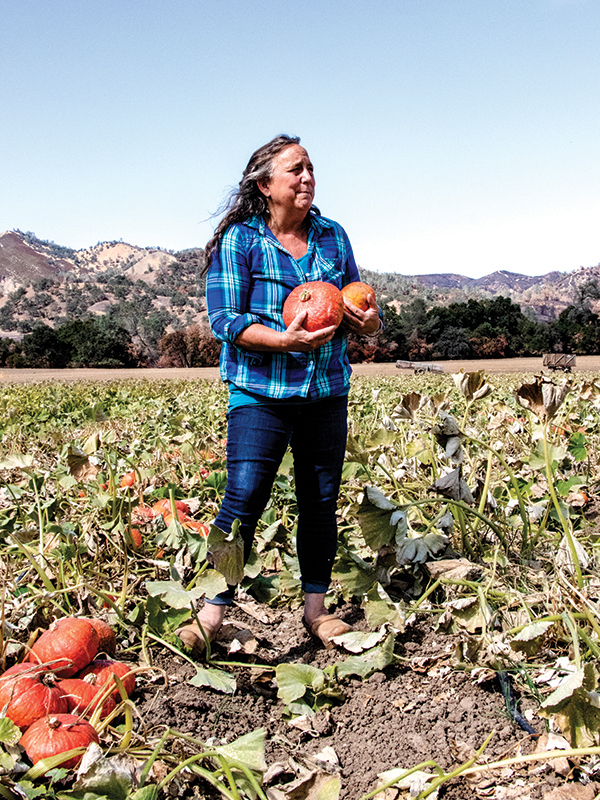 Meeting Dru Rivers for the first time is a magical experience. With twinkly blue eyes and a tanned face, a sweet voice and deep belly laugh, she can best be described as a fairy Earth godmother. If you live in San Francisco, you've probably already eaten her family's spellbinding produce. Rivers is the matriarch of Full Belly Farm, an organic operation in the soil-rich and climate-blessed Capay Valley. Going on three generations, they were early pioneers of organic, and now have deep roots across our city's dining scene.
Full Belly does a lot of things well. The asparagus snaps like spring, the tomatoes burst with sunny flavor, and the melons grow musky in the late summer heat. But come autumn, of all the pumpkins in all the land, the red kabocha is a treat. Squat, sturdy, and burnished orange, the flesh is fluffy and sweet. It makes a tempting snack straight off a roasting pan, and is equally good tossed into a salad or poured into a pie.
A visit the pumpkin patch includes a ride on the tractor and is more fun than a field trip. A grandkid climbs onto Rivers' lap for the ride ("don't worry, he's an experienced driver," she assures the rider), while a farm dog trails behind. Whole Foods and other big chains only want the big three: butternut, acorn, delicata. But the farm grows a dozen varieties of winter squash in different colors, shapes and sizes. "Someone will always have thousands of acres of butternut," says Amon Muller, the eldest son, "but trying something new broadens your horizons and helps small farms succeed."
The butterscotch is a mini butternut, and the honeynut is not only adorable but extra sweet. There's the regular delicata, but also a candystick cousin, darker and with dessert-level caramel flavor. They grow four different hues of kabocha: green, red, gray and black. The red Kuri, shaped like a tear-drop, is a chef favorite for smooth soups. The blue Hubbard is an old-fashioned heirloom and pretty centerpiece. In snappy stripes, the carnival looks like an acorn, but with splashes of orange. The jester resembles a small yellow beach ball, and the sweet dumpling is teacup cute. Spaghetti squash is the classic pasta alternative, but the angel hair version shreds into finer strands. Never least, the sugarpie pumpkin blends fine for cakes and pies.
Paul Muller and Rivers were a couple of crazy kids when they founded the farm. "Farmer Paul" grew up on the last working dairy farm in downtown San Jose, before it evolved into a free-way hub. Rivers grew up in Vermont and thought farming was akin to having a big backyard. They met on the square dance floor at an ag event near Davis in 1983. In rapid succession, she got pregnant, they got married, and soon they were piling kids in the truck. They named the farm after Rivers' pregnant belly, but also as an ode to a feeling of abundance. "We were kind of hippies," Rivers concedes, by all accounts a wild understatement.
Amon Muller remembers pulling up to the Berkeley farmers' market in a red pickup and sitting with his siblings on a pile of silver corn. Alice Waters from Chez Panisse was one of their first customers, soon followed by Zuni Café and Delfina. Rivers has gone to the markets every Saturday morning for the last 35 years, and young chefs coming up through those training-ground restaurants seek her out, nurturing deep relationships throughout the Bay Area. You'll find Full Belly produce on countless menus, from Rich Table to Che Fico to Mister Jiu's, as well as at vendors specializing in local produce.
Muller and Rivers started out by renting 25 neglected acres in 1983. The day the owner died, his wife called up, ready to sell. Judith Redmond officially joined as a founding partner, and she was the driving force to get the farm certified organic in 1985. She also launched the CSA program, long before veggie boxes on doorsteps were common. A few years later, Andrew Brait, a former third-grade teacher, fell in love with farming through their internship program and joined as a partner. It's been a co-op of sorts from the beginning, with a large cast of characters.
It's only growing as the four kids, now in their twenties and thirties, have started coming back to the land. After six months cooking at Quince, Chez Panisse and Pizzaiolo, Amon realized he didn't want to work indoors. His wife, Jenna is an avid baker. Together, they started the Full Belly kitchen, hosting dinners under the walnut trees and pizza nights on the lawn. They also rescue dinged produce to turn into sauces and jams. Rye and his wife, Becca, shepherd the animal program, raising about 2,000 chickens, 250 sheep and 50 pigs, as well as a few cows and goats. Hannah is the youngest, and she digs flowers like her mom, crafting wreaths and arrangements. Hallie is the only one off the farm now, but she used to manage outreach and education.
It's hard to imagine a better life than getting to be one of Rivers' grandkids. Rowan, Arlo, Hazel, Waylon and Oakley wade barefoot into the creek, run pants-off through rows of strawberries and raid butternut pie from the pantry. They hold baby chicks, pet friendly goats and name spring calves.
The farm has grown from 25 to 400 acres, 80-plus employees (depending on the season) and 90 different crops. For a small organic farm, that's remarkably diverse. It includes fruits and vegetables, but also nuts, beans, grains, flowers and animals, most sold within 120 miles. Farmer Paul's focus is the soil, con-stantly rotating the fields and trying for a cover after every crop, at least once a year. Rivers, who studied entomology, gently scoops up a praying mantis during the tour. Her love of flowers and variety have been central in the creation of the mini-ecosys-tem that is Full Belly.
In 2014 they received the Leopold Conservation Award. They haven't just sustained their land, they've truly regenerated it. "Most farms specialize in two or three different crops, and have good years and bad years," Amon Muller explains. "But my mom and dad had a vision: The more you farm, it spreads out the risks, but also, it breeds this amazing sense of abundance."
Every October, Full Belly hosts a huge "hoes down" festival to celebrate the fall harvest. Five thousand people come out to the farm to enjoy food, music and workshops, from seed sav-ing to sheep shearing. For all that practical skill-sharing, when asked what makes a Full Belly kabocha so much better than any pumpkin, Rivers claims she doesn't know. It could be the rich soil, or how they limit the water or having the patience to let the pumpkins cure in the fields until the vines die down. But she also has a crunchy, Earth mother answer that feels absolutely true: "It's just the love," she says with a twinkle. "You can taste the love."

We want to introduce our newest favorite piece of cookware from
Hestan Culinary: the 11-inch NanoBond Titanium skillet.
Hands-down, it's the first pan we reach for when frying, sauteing, or stir-frying, and we even cook our omelets in it (and no, they don't stick, more on that later). The NanoBond cookware's triple-bonded stainless-steel base delivers quick, even heating with exacting temperature control that cooks rely on, essential for searing meat, poultry, and seafood.