"I watched you pour in some oil and vinegar, and whisk, taste, whisk some more, taste, whisk. I thought, 'Wow, this is one helluva dressing he's making.' And it was."
This is from a man I knew once and can't remember. He says he saw my name in a book, found my email. He's sent me a description of an evening in 1991—apparently I threw a dinner party at my place in the Haight and made a salad. He describes how I made the vinaigrette.
"When I asked you for the recipe, you laughed and said it was just oil, vinegar, salt. I think that was it. That night you turned me on to the idea of great oil and vinegar. You sold me on the idea of quality ingredients, and that's why I think of you pretty much every time I make a salad."
I laughed? Well, maybe it was 10% being a dick, 90% being aware of how difficult it would have been to break down the complex elements of this salad without making everybody's eyes roll. Sometimes simple things are not really simple. Simple salads are never so.
Like all salads I made back then, it would have been a simple thing of three or four lettuces, a chicory or two if it was a cool month, and cress, maybe, or small, tender leaves of parsley or basil. I would have tried to balance the flavors of those elements: the sweetness of head lettuces against the bitterness of leafy ones, crispness to contrast softness, perfume to temper bite. I would have dressed it with red wine, champagne or sherry vinegar, depending on the mix of greens—a little garlic or shallot macerated in the vinegar with salt, maybe, or left out entirely—in a temporary emulsion with olive oil I was careful about: no green, hot or pepper-laced oils, only sweet, yellow, buttery ones. That was it. Simple.
But behind the simplest salads lurk decades—centuries—of cultivation, craft and intention. Whisking vinaigrette, dribbling it over the couple of handfuls of greens I washed and dried, coating the leaves by tumbling with my splayed fingers: these were only the final gestures in a movement that took generations to complete.
That 1991 salad of non remembering would have been the product not so much of my own skill but of an ethos, a culture, that began to ripen in a few small, green, ocean-chilled places in Northern California 40 years ago.
My first salad—my first real salad—came to me in the 1980s, at Greens. It was Saturday lunch, the high windows gave a side-eye view to the Golden Gate, the hills of the Marin Headlands looked wind-strafed, cold and monumental. I remember looking at my salad, seeing the light through the leaves of pale yellow and rusty green; they had veins like puppies' ears. I'd never eaten salad leaves like these, crisp and soft, shiny with a dressing that let the taste of the greens be.
The guy I was having lunch with had worked as a server here, had been to Green Gulch—the restaurant's farm in West Marin, northwest over those hills that anchored the bridge. A thought like a seagull diving through a pane of one of those high windows crashed into my understanding when my friend told me these lettuces came from just over those hills, across that bridge, to the kitchen back there through the swinging door. I felt I could probably have traced the truck, watched it lumber down the approach to the bridge, followed the top line of its bulk as it rolled across the Golden Gate to pull up here, like I had a spatial connection to that salad.
It's only a cliché to say a dish changed your life if it actually didn't. This salad literally changed my life. Within three months I quit my office job to make minimum wage doing lunch prep at Greens. I learned how to take the wood and wire crates of lettuces off the Green Gulch delivery truck (the wooden slats were wet and slightly spongy, the thick wire hurt my fingers when I tried to untwist it to flap open the lids). I learned how to cut, wash and dry greens meant for other people's salads. I learned the names of the varieties—some French, others Italian, all antique. Brune d'Hiver. Merveille des Quatre Saisons. Little Gem. Lollo Rossa. I was happy.
My happiness had a prologue. In 1967, a tall, one-time Shakespearean actor with cheekbones like hillocks and thick combed-back hair arrived at UC Santa Cruz. Alan Chadwick had grown up steeped in the principles of Rudolf Steiner, founder of biodynamic agriculture. Chadwick preached soil health and the importance of biodiversity. A philosophy professor who'd heard about Chadwick persuaded the chancellor of UCSC to invite him to a barren and unpromising hill on the rambling campus to start a teaching garden. Chadwick and a circle of devoted students cleared brush, dug and planted, informed by spiritual principles and gardening zeal. Some of Chadwick's students went on to power Northern California's first wave of organic farming.
Deborah Madison, now a cookbook author, was a student at UCSC during Chadwick's time there (he left in 1972). She described him spotting her walking in the garden from clear across the other side, and wrongly accusing her of stomping through one of the raised beds. He screamed at her. The former actor had an Othello-level temper.
Before opening Greens restaurant in 1979, Madison lived at Green Gulch Farm in Muir Beach (she'd gone there in 1968, after leaving Santa Cruz, to study Zen Buddhism). San Francisco Zen Center, which owned the farm, invited Chadwick there as head gardener after leaving UCSC. At Green Gulch, Chadwick pursued French intensive gardening, a method based on extreme soil health, organic principles and thoughtful land use. It caught the attention of a woman whose passion for beautiful little salad greens was even more intense than mine.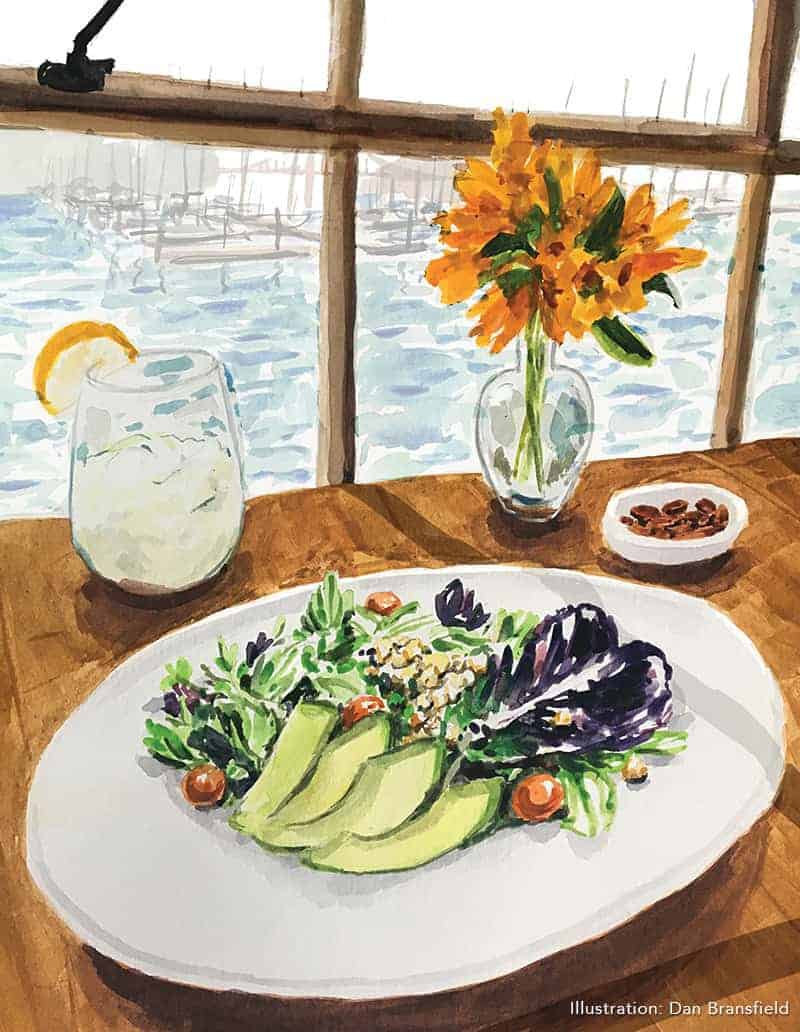 "The mixed greens salads—for sure, you can blame me for them." This is Alice Waters, quoted in David Kamp's 2006 history of America's modern food movement, The United States of Arugula. Waters tells Kamp she was bringing home seeds from France in the early 1970s and planting them in her garden in Berkeley. Waters says she wanted "a French kind of salad, with frisée and mâche."
Her appetite for French salads drove her to Green Gulch Farm, where she met Deborah Madison for the first time. On a day in 1977, Kamp reports, Waters and Lindsey Shere, who did desserts at Chez Panisse, went to Green Gulch, where Madison was directed to show them around the fields of lettuces, herbs and other growing things.
Madison ended up working for a time in the kitchen at Chez Panisse, taking over desserts while Shere was away. Soon after, Madison went to France with Waters and other cooks from Panisse. Kamp says Madison came back with her own hoard of seeds for the Green Gulch fields: "radicchio, borage, chicories . . . [all] relatively unknown in America at the time."
So the salad that changed my life was the product of a few other lives that had been changed by salad—really by soil, seeds and the work of cultivation, both in the garden and at the kitchen prep table. Also, I think, there's something about coastal California, about standing in a field in West Marin or Santa Cruz, the chill of just receded fog lingering, a luminous greenness in the light reflecting off leaves sprouting from rows that stretch off into lines not perfectly straight. It takes you over.
After my first year in the kitchen at Greens I thought I knew everything about salads: how to open a delicate head of leaf lettuce to preserve its heart, how to pick off the tiny leaves at the center before working out to the more resistant ring of cloaking ones; how to soak a head of butter lettuce in cold water to persuade its rose-petal leaves to pull away from the crown without tearing. I knew how to separate the tender fronds of frisée from the woodier stalks, and how to wash and dry mâche without leaving bruises. Apparently I didn't know everything.
That year I volunteered to help out at the second Tasting of Summer Produce, to work on the dinner served as the highlight, that year overseen by Judy Rodgers (this is before she took over at Zuni Café) and held at Greens. The Tasting was the visible annual showcase of the Farm-Restaurant Project, organized by Sibella Kraus, Chez Panisse's produce wrangler, the connection between organic farmers like Warren Weber of Star Route Farms in Bolinas and a small circle of Bay Area restaurants. I had to prep the lettuces for a simple green salad.
Rodgers kept her eye on me and another cook as we separated the leaves from half a dozen varieties of lettuce—bronze, yellow-green, ruffled, dragon-toothed. We filled the wash sink, carefully swished with splayed fingers, scooped the greens into colanders. But just as we piled them into the dryer, a washing machine–sized thing that worked like a home spinner except it was powered by electricity, Rodgers let out a little shriek.
"Stop! You're going to bruise them!"
I told her I did it that way all the time at Greens. She shook her head—she didn't care what I was used to doing. She made me and the other cook carefully lift the leaves out of the contraption and transfer them to small hand-powered spinners. We dried batch after batch manually, carefully piling them into towel-lined bus tubs. After all the work of growing those little lettuces, harvesting and driving them across the bridge, setting them onto the loading dock, Judy Rodgers wasn't going to let a couple of cooks leave any shadow bruises on the leaves.
"Salads are really hard," says Christian Reynoso, a young cook who works at Zuni now, two and a half years after Rodgers' passing. "Everything has to be really balanced, and it changes: the lemons will be not as bright one day, and the garlic not as hot. A salad, especially if it has three ingredients, it has to be perfect."
Perfection, though—it has a way of sticking in your imagination, even, like my dinner-party salad from 1991, a quarter century after its parts were picked from some field in the chill of an early morning in California.
Want more Edible San Francisco stories? Then like us on Facebook to stay connected to our daily updates.
The Green Salad was originally published in the Summer issue © 2016 Edible San Francisco. Illustrations © 2016 Dan Bransfield.